Wresplendant
Filly - Oldenburg GOV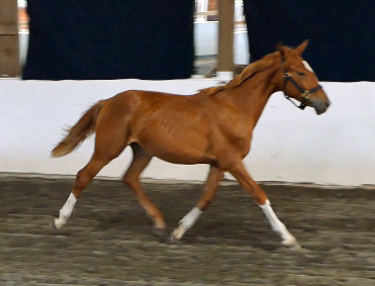 2017 Filly – Oldenburg GOV

Wresplendant by Diamond Head x Wregalia (Feiner Stern/Wendepunkt)

$20,000

Darling chestnut filly with a power packed pedigree for success in the dressage ring!  Only a couple of days out of her stall in the video footage at the GOV testing, this young lady was awarded the 'Premium Foal' status with compliments on her uphill frame, lovely topline, and ability to carry and use her hindquarters.  Cadenced mover, in a small, but powerful package, we expect her to finish out around 16hh.  A great choice for the rider looking for a well bred partner with a star studded pedigree, and correct, elastic, balanced movement to take up the levels.