Kari McClain
Instructor, Trainer, Judge and Breeder
FEI 4* Judge, FEI Young Horse Certified; USEF 'S' Judge with
Freestyle, Young Horse & Equitation Certifications

;
USEF Western Dressage 'r'; USPC Traditional 'A'
USDF Gold, Silver & Bronze Dressage & All Freestyle Bars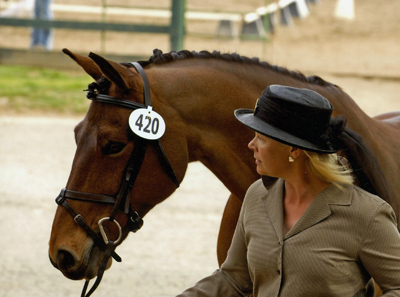 Kari McClain
Instructor, Trainer, Judge and Breeder
FEI 4* Judge, USEF 'S' Dressage Judge w/ Freestyle & Young Horse Certifications & 'r' Western Dressage Judge
USDF Dressage & Freestyle – Gold, Silver & Bronze Medalist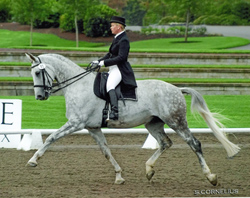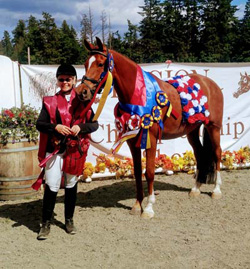 Kari McClain
Owner, Head Instructor, Trainer, Breeder & FEI 4* Judge, FEI Young Horse Certified; USEF 'S' Judge with Freestyle, Young Horse, Equitation, Freestyle Certifications; USEF Western Dressage 'r'; USPC Traditional 'A'
Kari debuted in her first show in lead-line at age 5 and has been passionate about horses ever since! Her initial experience and education was in 4-H, where she competed successfully in Western, Hunt Seat, Showmanship, Judging, Trail, and even dabbled in Driving, Reining, and Saddleseat.  At 15 she joined Pony Club, graduating with her 'A' when she was 18. Kari evented extensively through Preliminary in the full format days, winning and placing regularly at events in the Pacific Northwest and at the West Coast eventing finals in CA.  In 1980 Kari was long listed as a YR for the NAYRC Eventing Championships and in 1981 was on the NAYRC Region 6 Dressage team that won the Bronze medal.  She has been a USEF judge since 1986, and is currently licensed as an  FEI4* Judge, USEF 'S' Dressage Judge w/ Freestyle, and Young Horse license and the 'r' Western Dressage license.  She has earned her USDF Bronze, Silver, and Gold medals, as well as her USDF Bronze, Silver and Gold Freestyle bars.
On horses of various breeds that she developed herself, Kari has placed in the top 5 in CDI's, has won champion or reserve at regional championships from training through grand prix over 30 times, made USDF Horse of the Year standings multiple times, and has trained 20+ of her own horses and nearly 30 students  to Grand Prix. Eleven of her students have achieved their USDF Gold Medals, 45 their Silver, and 80 their Bronze. Her students have also earned multiple Freestyle bars at all the levels.  Kari's students have garnered numerous wins and top placings at Regional Championships, CDI wins & placings, USDF National Finals Championships wins and placings, as well as hundreds of USDF Horse of the Year and All Breed Awards wins and top placings.  Sixteen of her students have made the North American Young Rider or Junior Dressage teams, and 20 students have earned their judge's credentials from 'L' to 'S'.  She has coached numerous Pony Clubbers to their upper ratings, including 16 to their 'HA' and 'A' level, and 10 more to their 'B'.  Her students have placed well or won many combined training competitions from beginner novice through Advanced. Kari also enjoys coaching students in  their dressage skills to compete successfully in Combined Driving, Working Equitation, and Western Dressage. Additionally, over the years, many of Kari's students have gone on to become successful professional trainers, instructors, clinicians, and judges themselves.
Kari has a passion for teaching, training and sharing her experience and knowledge.  She enjoys and excels in working with horses of all breeds and temperaments and riders of all levels and ages. She has garnered a reputation for being able to bring out the best in riders and their horses, and help them reach goals they scarcely dared dream they were capable of.  She strives to develop quiet, correct, riders who communicate clearly and harmoniously with their horses to develop them through the levels in a relaxed, athletic, confident way. She enjoys teaching riding as a vehicle for greater self-growth and realization for each person. Her clientele consists of many of the region's top professional riders, as well as adult amateurs and Jr./Young Riders.
Kari has studied with many influential people over the years.  Her mom, Deena McClain, a successful multifaceted horsewoman and gifted riding instructor herself, gave Kari a solid start and continues to be Kari's greatest influence and mentor.  Kari also studied extensively over the years with Elizabeth Madlener, Dietrich Von Hopfgarten, Kim Beardsley, Kevin Freeman, Cindy Burge, Tami Masters, Melle von Bruggen, Hilda Gurney, Carol Lavell, Michael Poulin, Christian Garweg, Debbie McDonald, Lilo Fore, and most long standing with her dear friend and FEI 4* judge, Mike Osinski.
Kari has also had the opportunity to clinic over the decades with many top riders and instructors including:  Steffen Peters, Kathleen Raine, Christine Taurig, Edgar Hotz, Janet Foy, Bruce Davidson, Derik De Grazia, Anne Gribbons, Heather Bender, Jeff Moore, Major Lindgren, Sally Swift, Sabine Schut-Kery, Karen Pavicic, Charlotte Bredahl, Christine Stuckelburger, and Karen Robinson. Kari continues to pursue educational opportunities with other leading sport horse, riding, and judging notables, feeling that one can never tire of learning more.
Kari continues to be an active and enthusiastic instructor, trainer, competitor, and clinician and has owned & run the boarding, training, and breeding facility, Miari Stables, since 1990.  She and her husband have bred and raised 100+ sport horse foals and were the USDF National Reserve Champion Sport Horse Breeder of the Year for 2016.  Since their first foal in 1990, their youngsters have won numerous sport horse and under saddle titles regionally and nationally.   Kari has served in the past as her region's YR chair, YR Chef d'Equipe, YR coach, and served many years on the USDF Sport Horse Committee. Currently, she is on the USDF Freestyle and Test Writing Committees.  She has organized and run rated shows, many clinics, and European juried Warmblood testings.  When time allows, she enjoys world travel, skiing, time with her friends and family, theater, art history, museums, and photography.
Kari is available for clinics, training, lessons and judging in Dressage and Western Dressage, jumping and in-hand work
Contact Miari Stables
Schedule training, lessons, a performance review or even a tune-up for your upcoming shows.
Contact US