Rachel Marie
USDF 'L' Judge, USDF Silver & Bronze Medalist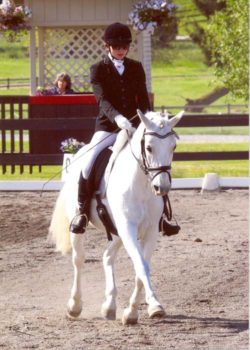 Rachel & Leopold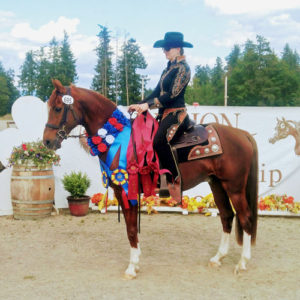 2016 & 2017 Region 5 Western Dressage Champion
Rachel & 25 yr. old Hot Rod Lincoln
Rachel Marie
USDF 'L' Judge; Assist. Mgr., Assist. Instructor, Young Horse Trainer, Certified Vet Tech.



Rachel brings amazing enthusiasm, experience, and a high degree of expertise and knowledge to the job of being the Assistant Manager for Miari and also a certified USDF "L" judge.  Her duties are broad based as she not only is the assistant training rider and main groom for Kari, Rachel is also the person who oversees the care of all the horses at Miari.  Rachel is the second in command in coordinating our breeding program and helping to handle and train the foals and young stock.  Additionally, she also helps develop the youngsters once they are under saddle.
Rachel brings a unique combination of valuable skills to Miari as she is a certified Veterinary Technician, as well as an experienced and capable horsewoman with many years experience owning horses and working in various stables. Rachel loves horses and particularly enjoys working with the babies and youngsters!
Rachel has earned her USDF Bronze Rider Medal with scores earned on a Lipizzaner and her own rescued National Show Horse, "Hot Rod Lincoln".  She has placed well and won through 4th level in dressage. Rachel has also taken several top awards at the Region 5 Arabian Sport Horse Championships for the last several years in the Dressage classes through 4th level as well as Sport Horse In-Hand, Under Saddle, Hunter, and is the 2016 & 2017 Champion for Western Dressage in Region 5 Arabian Sport Horse performing at the highest levels of Western Dressage! She is currently developing and can be seen out competing her Miari bred talented youngsters, Hermes, First Dibbs, Debutante and Quinault in dressage​.

Rachel is our head instructor for our beginning and novice rider program.  She brings her positive outlook, great patience and teaching ability, knowledge, and safety awareness to helping new and novice riders ​develop​ their position and riding skills, understanding and enjoyment of riding.  She teaches riders of all ages, and offers lessons in English or Western, on your own horse, or on an experienced Miari school horse.  She also will help with longing, trailer loading, and ground work skills for you and your horse. Rachel loves to share her passion for horses and riding!
Please feel free to contact Rachel directly for lessons or to judge your schooling show at (253) 263-0424 or email – rachelmariedressage@gmail.com

We are thrilled to have Rachel as part of the Miari team!