Lindsey Anderson-O'Keefe
USDF Gold, Silver & Bronze Medalist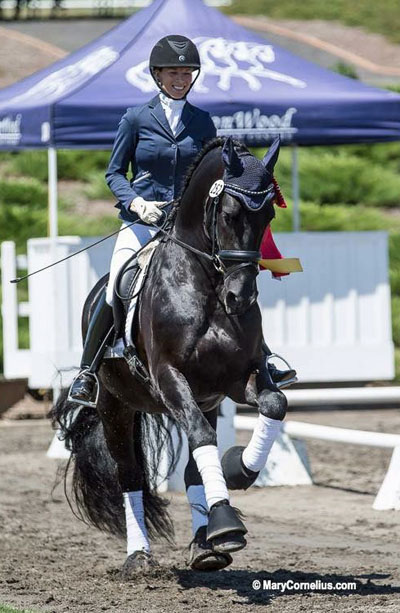 Instructor – Trainer – Coach

USDF Dressage Gold, Silver & Bronze Medalist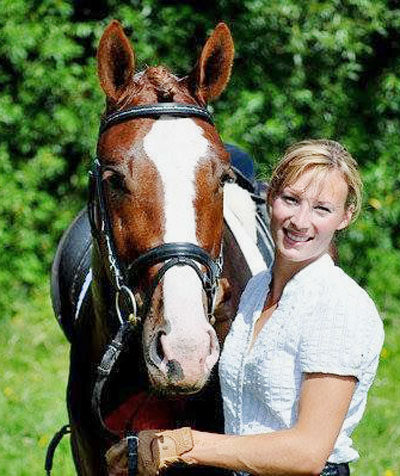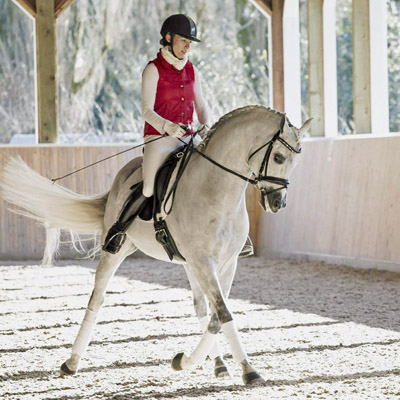 Lindsey O'Keefe Dressage

Lindsey Anderson-O'Keefe – Trainer, Instructor, Competitor, Horse Sales



Dressage is Lindsey O'Keefe's passion! Her mission is to educate riders to effectively communicate with their horses. Lindsey takes pride in training all level of riders, novice through advanced.  Riders enjoy her knowledge, enthusiasm, and positive training program.  Lindsey resides with her husband and two daughters in Puyallup, Washington. Her family lives on a small  farm where their beloved horses are retired and where they raise future prospects.
Lindsey O'Keefe was born and raised on a horse farm in Puyallup, Washington. Growing up with 3 horse crazy sisters, and a mom who was passionate about horses, gave Lindsey a chance to be riding daily and very hands on with horses from an early age. Showing at the local "B" rated shows was a normal weekend activity for Lindsey's family, and it was there she sparked a life long interest in showing with her start in the hunt seat and western flat classes.
When Lindsey was nine, her mother decided the rogue pony that the family was leasing for Lindsey to jump was in need of some basic dressage instruction, and they sought the help of local FEI trainer, rider, instructor and judge, Kari McClain.
Lindsey fell in love immediately with dressage! Kari guided her through the levels on horses passed down through the family, and eventually, on a schoolmaster of her own. Lindsey acquired her USDF Bronze, Silver, and Gold Medals in quick succession, all by the age fifteen. She attended the very first North American Junior Rider Championships, receiving the Individual Bronze and Team Gold. She also competed in the North American Young Rider Championships, receiving an Individual and Team Bronze Medal for Region 6. Lindsey has also competed in the Brentina Cup, where she placed third in a class of horses at the International level.
Additionally, Lindsey has won:
-USDF Regional Championships on several horses (different breeds) training through Grand Prix. 
– USDF Horse of the Year: 
      ~4th level through I-2, top 10 horses in the country
      ~I-1 was 3rd in the Nation 2008
       ~Tigris-Champion training level through Grand Prix 
       ~Intrepid-Champion third level through Intermediate 2. 
       ~Quick Silver Bey++++\\- Champion Training level  through Intermediate I
       ~Khemo Khadet++++\- Champion third level through Intermediate I
       ~Quick Lady++++\- Champion training level 
– Arabian Regionals/Scottsdale:
        ~Over 50 Regional Championships
-Arabian Sport Horse Nationals:
        ~Multiple National Championships in: Dressage (training, 1st level, 2nd level, PSG, I-1),In-Hand (reserve supreme), Show Hack,  Undersaddle, Junior Horse Undersaddle 
Lindsey has run a successful training, showing and domestic & international sales/exporting program since 2002. Several of her working students are now successful FEI trainers and run their own businesses. Her program attracts horses of all breeds and riders of all levels of experience. She loves her horses and the journey of developing them each ride. Many clients have obtained their goals with Lindsey as their coach, here are some of the accomplishments:
-Over 35 Arabian Regional Championships
-Arabian Sport Horse National Champions
-Dressage at Devonwood Freestyle Reserve Champion
-USDF Region 6 Champions
-USDF National Dressage Finalists
-National Dressage Seat Equitation Qualifiers
Lindsey can help you achieve your riding goals! She has trained and cliniced with: Kari McClain, Conrad Schumacher, Roxanne Christenson, Steffen Peters, Janet Foy,  Dietrich Von Hopffgarten, Micheal Poulin, Andreas Hausberger, Elizabeth Britten-Hendrix, Leigh Cochran, Mike Osinski, Debbie McDonald, Scott Hassler, Kathleen Raine, Barbara Koot and Linda Zang.
She is still actively pursuing to further her education in Dressage. Lindsey is available for lessons, training, and clinics.  Currently, regular clinics are being held in Enumclaw and Spokane.  Contact Lindsey for availability on sale horses, clinics, lessons, and training!
Come celebrate your winning spirit with Lindsey O'Keefe Dressage!
(253)651-5504  //  email – ti2intrepid@aol.com